Heating Installation in
Elverta

, CA
A heating system replacement is not always a planned event. A sudden heat pump or furnace malfunction that is beyond repair means you have to act quickly to keep your family comfortable and safe, especially when it is late autumn or winter. When this happens, you need a heating contractor you can trust to make sure that your home or business is functional quickly. At Ecology Air Innovations, we provide quality heating installation in Elverta, CA at a fair price. We won't take advantage of you in your time of need. We'll make sure you have all the information you need to make the right decision and walk you through every step of the process to ensure your complete satisfaction. Learn more below about the important things we take into account during a new heating installation.
How to Pick the Perfect Heating Unit
Getting the most from your heating system involves more than just selecting an energy-efficient unit. You need a system that is the correct size for your home or business. Sizing considerations include the:
Number of occupants

Size and design of the home

Comfort preferences of occupants

Level of insulation

Type and number of windows

Typical household activities

Local climate
Failing to account for these factors will result in incorrect sizing. If your furnace or heat pump is too large, you will experience large temperature swings and higher operating costs. An undersized system will struggle to keep up with your heating needs and likely suffer accelerated wear and tear. In both cases, the system will use more energy. Our design specialists know how to accurately determine heating loads so they can make recommendations that will result in an ideal system for your property in Elverta, CA and the surrounding areas. Don't spend money needlessly when you can leverage our decades of experience to get the best possible solution.
One of the best ways to care for your heating system and pick the best unit is by understanding how they work. In the simplest of terms, a furnace works by igniting a fuel (natural gas or propane), using the heat to warm the air, and then blowing the warmed air throughout your property with a fan. If you are considering a new furnace in Elverta, our experts can walk you through the different models, including the specific differences in these major elements. With a little bit of knowledge and guidance from our team, you can find the perfect solution.
Why professional installation is a must
Items in your home that use gas or electricity like furnaces, laundry machines, and appliances can all be incredibly dangerous if they are not set up properly. Issues like fires, leaking gas, and more can arise if your installation is flawed. Here at Ecology Air Innovations, we have a seasoned team of heating installation experts that check and double check everything, ensuring a safe installation for every client. Don't risk unprofessional installation, choose our team instead.
Full Service HVAC Company
Ecology Air Innovations provides a wealth of HVAC services including AC repair, AC Installation, heating repair, heating installation, and preventative maintenance. Our technicians service residential and commercial clients across the Sacramento, California area, including Elverta, Elk Grove, Roseville, West Sacramento, and Natomas.  We are dedicated to keeping your homes and businesses safe and comfortable. Let us help maximize the return on your investment in quality HVAC equipment.

Call us to setup an appointment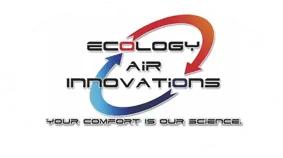 Sunday              Closed