HVAC Serving Greater Sacramento
For many years, our family-owned HVAC company Ecology Air Innovations has provided outstanding HVAC services to clients throughout the Greater Sacramento region. Our commitment to your satisfaction is apparent in the way we work, from the superior products we use to our unmatched attention to detail on every job.
This mindset comes from the founders of our company, Jake Shurtleff and Mark Gilmore, and works its way down to every single employee we have on staff. Learn more below about the fabulous people who make Ecology Air Innovations tick.
Jake Shurtleff
Owner/Installation Genius
Jake is a natural at problem-solving, artistic design, and craftsmanship. Long before he started in heating and air, he developed his sheet metal skills working on American muscle cars. When others say it CAN'T be done, he finds a way.
Mark Gilmore
Co-Owner/System Design
Mark started in the industry over 10 years ago and has been focused on honing his skills at Residential retro-fit replacement design ever since. By listening intently and making detailed work agreements, Mark can Guarantee that what you want is what's delivered.

Call us to setup an appointment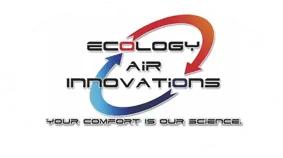 Sunday              Closed