Air Conditioning Repair in Elverta, CA
With the current cost of AC units, it is crucial to keep yours maintained and serviced. So if your AC starts to malfunction, we can provide reliable air conditioning repair in Elverta, CA. Let Ecology Air Innovations help with all your AC repair needs, whether you're in Elverta, Elk Grove, Natomas, Roseville or Sacramento. Our HVAC repair technicians are proffessional, knowledgeable, experienced, and trained in all the most current air conditioning technology and repair practices. 
What Signs Indicate That Your AC Needs Repair?
You might be unsure when your AC actually needs help. Fortunately, your AC often gives off obvious signs. Some of these signs include:
No air: If your AC doesn't blow air at all, you could have an issue with your thermostat, filter, registers, Freon, condenser, or capacitor. No matter what, you need service immediately.

Strange noises: Any odd noise from your AC is usually not a good thing. Banging could mean loose components, while clanking could point to an issue with your fan blades. Whether you hear clicking, buzzing, squealing, or hissing, let us know so we can resolve this mystery for you.

Warm air: If the air coming from your ducts isn't cool, this could indicate a problem with your electricity, thermostat, AC drain, filter, or coils. Don't wait — instead, let us diagnose the issue and provide the necessary repair.
 No matter the issue, we are here to help.
Full Service HVAC Company
Ecology Air Innovations provides a wealth of HVAC services including AC repair, AC Installation, heating repair, heating installation, and preventative maintenance. Our technicians service residential and commercial clients across the Scaramento, California area, including Elverta, Elk Grove, Roseville, West Sacramento, and Natomas.  We are dedicated to keeping your homes and businesses safe and comfortable. Let us help maximize the return on your investment in quality HVAC equipment. 
What Kinds of Repairs Can We Accomplish?
When you reach out to us for air conditioning repair services here in Elverta, CA, we'll come to your home, investigate the issue, and provide a fast and efficient AC repair solution that will keep you comfortable all year round, even as California temperatures continue to rise in the summer.
 Some of the AC repair services we can do for you include replacing a bad capacitor, repairing leaks, adding refrigerant, unclogging drain lines, repairing a failing blower motor, and replacing a bad condenser fan motor or compressor.
 These are among the most common repair solutions we determine when a customer reaches out to us. However, our trained team of HVAC technicians are equipped with the knowledge and tools to tackle any issue you may have. We want to offer the best solution for you. Book your appointment with us today!
 Then, continue reading this page to learn why your neighbors across the Sacramento area, trust us to provide exceptional AC repair service.
Why Choose Our Company?
Ecology Air Innovations is ready to tackle any AC repair issue. For example, we can repair any brand, especially Trane. Additionally, we are familiar with central air, ductless systems, and heat pumps. No matter the type of repair necessary, we have the tools and experience you need.
Furthermore, as we are a small company, we can give you the personal attention your AC unit deserves. The owners, Jake and Mark, take care of every customer. That way, you can have qualified, exceptional service every time you call.
If you need AC repair in Elverta, Elk Grove, Roseville, Sacramento, or Natomas, CA, then please call us at (916) 640-9464. Make sure to check out our current specials as well!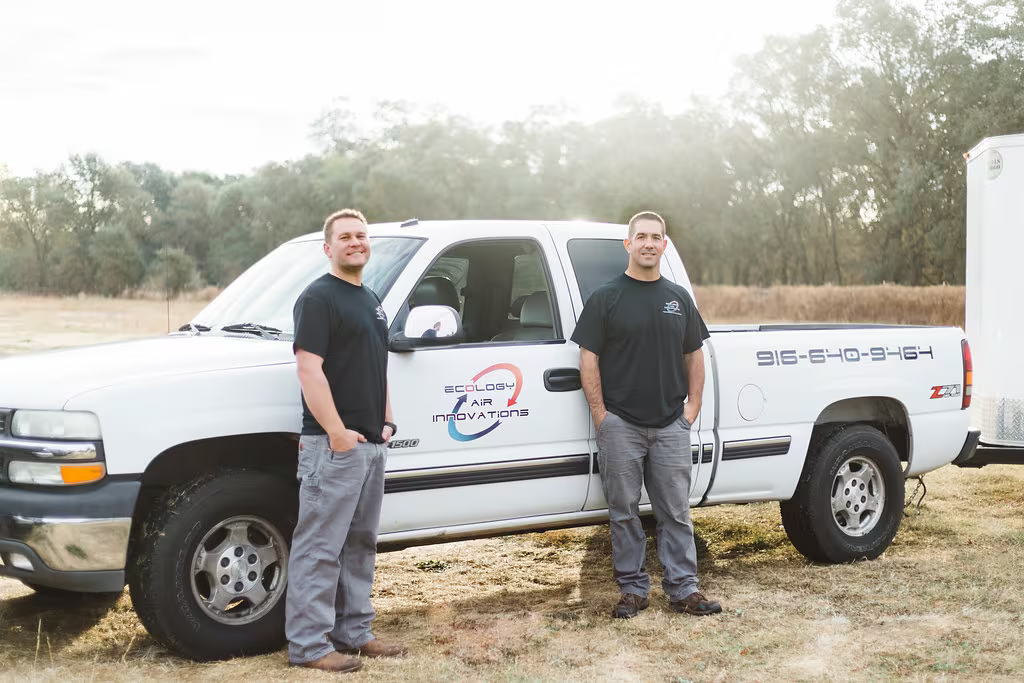 Many of our clients ask us, "Why are you called Ecology Air Innovations?" For many people, these words don't immediately bring to mind HVAC services. But there's a reason why we chose them to represent us.
First, the definition of ecology: the branch of biology that deals with the relations of organisms to one another and their physical surroundings.
To us, this is You. Your family. Your Home. Your Comfort. Our Science.
The second reason:
Both Jake and Mark worked for Ecology Sprinkler, a successful landscape company owned by Jake's grandparents (Memaw, Billie, and Papa Bob.) When we were talking about founding this HVAC company, we knew we had to continue their legacy. Thus, Ecology Air Innovations was born!

Call us to setup an appointment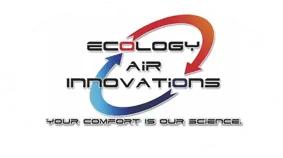 Sunday              Closed